Summary:
Everyone wants a man who knows exactly how to get them off - touch, taste and hit the right spot every time - enter the All Star Studs.
All Star Studs has five scene that are just bursting with nine passionate, intense and hard guys, all willing to please!
Description / Review:
Scene 1: Pierre Fitch & Brandon Jones
Pierre Fitch, a popular fixture in the gay porn industry, returns to the camera for Lucas Entertainment as he cruises the streets of Montreal. He can barely contain himself when he lays eyes on the slender cutie, Brandon Jones, who seduces Pierre back to his apartment for a hot hook-up. Brandon is a bottom who loves to perform for his top: he uses his killer body as a weapon of pleasure to satisfy the guy he's with in every way. Pierre is sporting the skater look -- he's showing off his tattoos, wearing a black wife-beater, and even has the off-center baseball cap.
When he and Brandon tear into each other with an intense and wet session of kissing, the boys get heated up and swap blowjobs. But the sex reaches its level of intensity when Brandon flips around in different positions, opening his ass up for Pierre. As the porn star bangs Brandon, the bottom's rocking abs tighten and clench as he's taking every inch of dick!
Scene 2: Matan Shalev & Kyle Deanthony
Israeli porn star Matan Shalev wants nothing more than to have his way with one of the cutest all-American studs in the porn industry: Kyle DeAnthony. The two begin with some hot and heavy kissing -- all the while Kyle's hands are roaming over the amazingly tight and toned physique of Matan. The Israeli hunk's fat cock can barely stay hidden in his shorts, and quickly pops out only to disappear into Kyle's mouth; the bottom impressively opens up his throat to accommodate. Matan is a passionate top here: he lets Kyle get him stiff and ready for a deep and extreme ass-fucking. Matan flips Kyle into an amazing position: the bottom is on his back with ankles mounted on Matan's shoulders as the Israeli top hammers away at his ass. Kyle's moans and deep breathing bring the scene to a steaming cum shot!
Scene 3: Adam Killian and Carsten Andersson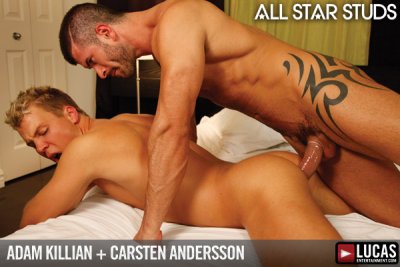 Adam Killian is a lustful guarantee for an intense and hard performance on camera. Few men can deliver the goods the way he does, and here he shows blond sexpot Carsten Andersson what he's made of. Carsten is one versatile guy. With one man, he's a dominant top, while with another he submits his tight boy-hole to an intense pounding. Here, it's the latter; Adam is in charge. Adam loves passionate kissing, and he dives into Carsten like a long-awaited meal. But Carsten's real reward is when Adam shed his clothes, revealing his sculpted, killer body -- not to mention his big, fat cock! Both guys have amazing dicks, and they take great pleasure in slobbering on and sucking each other's meat. When they're not slurping cock, they're eating out each others shapely asses -- more than once, we see Adam with a gleeful smile as his tongue burrows into Carsten's puckering hole. But Adam's boyish smile isn't to be underestimated: he's a power-top when he wants to be, and after all of the hot foreplay is over, he pounds Carsten into total submission until they're both ready to explode!
Scene 4: Matan Shalev & Jesse Jordan

The sultry and passionate Matan Shalev returns, and this time he has his hands all over Jesse Jordan, a slender twink who awaits servicing his top. Their initial make-out session is deep and intense -- all the while, their bulging packages are nearly popping out of their briefs! Jesse is submissive to Matan, swallowing the Israeli hunk's cock without hesitation. But Jesse shows off his true skills when Matan is ready to fuck his ass: the bottom rides his top like a gymnast, spreading wide his legs and bending his body -- all for Matan's pleasure! When Matan is ready to climax, he grabs Jesse's face and pops his load all over the cutie's face!
Scene 5: Jessie Colter and Robert Van Damme
No one in porn was built for the industry quite like Jessie Colter: he's a hot power-bottom with a killer body only matched by his passion for sex. That's a lesson he teaches to Robert Van Damme, a steamy top stud with a looming, rock-hard physique. These two have intense chemistry from the beginning: they worship each other's cocks long and hard, swallowing deep. Robert, whose meat is thick and uncut, at one point has to lean against the wall just so Jessie can swallow him! Robert then flips the power-bottom over and licks his hole into an excited frenzy that can only be fulfilled by a hard, intense fucking. Robert hammers Jessie as hard as he can, and Jessie takes every slam until the top is ready to drop his seed all over Jessie's face and in his wide-open mouth!