Summary:
Pierre Fitch returns to round out a cast of ten sweaty and sexy men ready and waiting to show what they're made of. After you see them in action, you won't want to Drain Your Load any other way! Rugged hunk Manuel DeBoxer blasts his cum all over Brandon Jones' face and down his throat; Ryan Russell opens up his hole for Johnny Venture's beer-can cock; athletic studs Adam Avery and Nick Ford follow up a sweaty run with sucking, rimming, and fucking; and blond bottom Kyle Quinn services Adrian Long's uncut cock to completion. Drain Your Load with some of Lucas Entertainment's hottest guys!
Description / Review:

Scene 1: Brandon Jones and Manuel DeBoxer
It's more than a hotel getaway for Manuel DeBoxer when he sees Brandon Jones mingling in the lobby. Brandon's body is tall and lean, and with each motion he makes his six-pack stomach flex. Manuel catches sight of Brandon disappearing upstairs into his room where he strips down to his white Calvin Klein briefs and lays out on the sofa. Instead of stopping by his own room, Manuel follows Brandon and doesn't show any restraint when he moves in on him. Brandon looks at Manuel with longing eyes as he embraces the built top. They start with some kissing before Manuel slips off Brandon's underwear and pumps his hole with his fingers. Afterwards Manuel purses his lips for Brandon's uncut cock.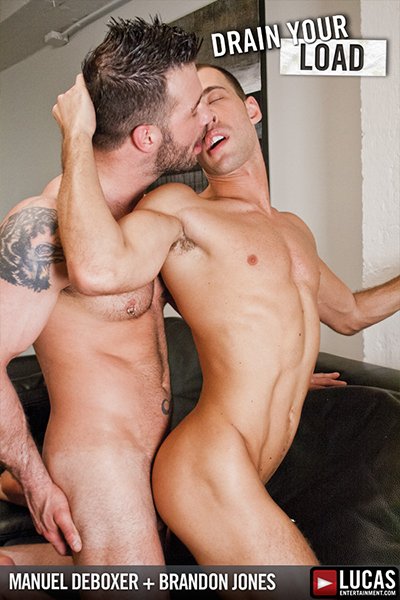 Manuel's looks are ruggedly handsome, and watching a cock slide in and out of his bearded lips is more than Brandon can handle. Manuel stands up when he's finished pleasuring Brandon and shows off his beefcake body, furry and glorious in its masculinity. Brandon worships Manuel's cock with his mouth and tongue before rolling over for a deep rimjob. When Brandon is properly teased, Manuel slips on a condom and enter his hole: first he's slow so Brandon can relax, but soon after he starts fucking him with fury. They move over to Brandon's bed, who is carried and tossed like a doll so Manuel can get off. When they cum, it's an explosion of seed.

Scene 2: Johnny Venture and Ryan Russell

Johnny Venture is rough trade that is always horny. When he's not scoring for cash, he's looking around to see who he can bend over and fuck like a dog for the sheer fun of it. Ryan Russell catches his eye as he's groping his crotch in an ally known for its seedy activity. A few deep, hard kisses lures Johnny back to Ryan place, where they are free to get into each other completely. After making out and pulling their shirts off, Johnny shows off his compact, worked-out body for Ryan. They pull out their packages (though they're still wearing white briefs) and Ryan feels around to find out what he's in store for. Johnny plays it cool, but he knows he's got a cock hidden in his underwear that's thicker than a cannon, and he's always ready to blast off in a hot guy's mouth.
Ryan can't wait to test his skills, so he pulls down Johnny's underwear and starts sucking on Johnny's dick, who leans back and simply enjoys the ride. They switch positions and Johnny opens his throat up for Ryan's hard uncut cock; he even pumps his face for a while. In a flip-flopping turn of events, Ryan first plays with Johnny's hole, which is one of the smoothest and tightest in the gay industry. But this bud isn't going to be plucked tonight: it's Johnny who rolls the condom on and situates Ryan on his hands and knees. Johnny is into fucking, so when he enters Ryan he's anything but gentle. Ass pounding, hole slamming - it's what Johnny is into, and Ryan at times doesn't know if he can take it. Just watch the clenching expressions on his face. Johnny flips him around position after position until they're ready to bust their loads.

Scene 3: Adam Avery and Nick Ford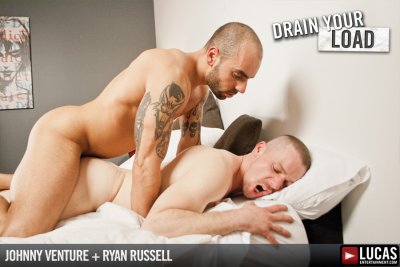 A jog under the hot sun doubles as a cruising opportunity for both Nick Ford and Adam Avery, two dark-haired men who cross paths at just the right time. Their jog turns into a follow-the-leader game as Kick lures Adam back to his apartment, where he tears into the young man the minute the door shuts. Nick pulls up Adam's shirt, pulls down his gym shorts, and lets the smooth and beautiful uncut cock hidden away pop out and into Nick's mouth.
Slowly and sensually Nick works on Adam's meat, who grabs Nick's head and shows him exactly how he likes it. When Nick is ready for some service himself, Adam drops to his knees - it didn't take him long to get completely naked - and Nick gets ready. With all of his clothes off too, Nick leans against the wall while Adam uses both his hands and mouth to swallow up Nick's erection, slurping on it every second of his wet blowjob. The oral sex turns into a rimjob: it's the perfect way for Nick to tease Adam, who is a hungry bottom when the time for penetration finally arrives. Adam bends over at first, but he shows off his true skills at getting fucked when Nick sits down in a chair while Adam straddles him. While they're staring into each other's eyes, face-to-face, Adam rides Nick's hard cock until they both cum.

Scene 4: Pierre Fitch and Sam Steel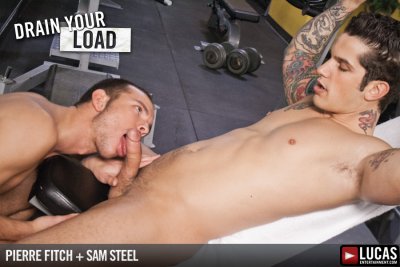 It's a slow day at the gym, and that's just how Pierre Fitch likes it. He's been working on his physique, and he has never looked better: buff and compact, there isn't a man who would turn him down. His weight lifting is moving along smoothly until Sam Steel interrupts the peace and quiet. But instead of feeling anger, Sam catches Pierre's eye: tall and cute, there's got to be a hot and lean body under his workout getup. Sam leans over and gives Pierre a peck on the cheek, and that sole signal leads the hot muscle dude to pulling down his gym shorts and recline back on the weight-lifting bench.
Sam wastes no time settling between Pierre's legs and getting to work on his cock. Sam is submissive, and he makes it his duty to worship every inch of Pierre's hard cock, who moans and groans with his legs spread. Pierre amps up his sex drive after the blowjob by sucking Sam's big cock before bending him over the bench and fucking him deep in the ass. All Pierre is interested in is his own pleasure, and he hammers away at Sam's hole with cheek-slapping pounds. It's no wonder they both blow their loads like geysers.

Scene 5: Adrian Long and Kyle Quinn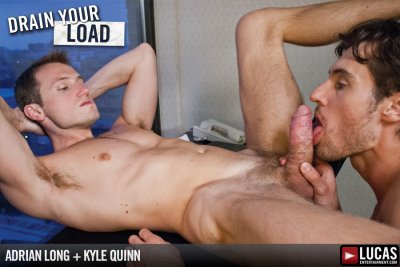 Playboy Adrian Long knows what he likes: sex! And the more he has it, the happier he is. He's cruising the city of Montreal in broad daylight when he spots young hottie Kyle Quinn, who is receptive to each and every one of Adrian's seductive glances. Adrian entices Kyle to follow him back to his room where they share some kissing before Adrian sits down and waits for the ash-blond cutie to start working on his uncut cock. Kyle never disappoints his man, and he immediately sets on his task of sucking Adrian's cock with all the skill he can muster, which is considerable.
Kyle opens up his throat and purses his lips: with each slurp and suck, Adrian doesn't waste one second enjoying all of the attention his dick is receiving. Adrian isn't totally selfish, and he invites Kyle to relax a bit while he returns the favor of sucking him off and eating out his ass. But Adrian also has an ulterior motive: it prepares Kyle for when he's bent over by Adrian for a deep ass fucking. Kyle winces at first when Adrian penetrates him, but soon yearns for each and every thrust he delivers from position to position! When you're finished, get ready for cum.