Summary:
Michael Lucas is an emotionless and driven assassin whose solemn life has been dedicated to carrying out the death wishes of others. His jobs are flawless. His hands are always clean. But when a jazz club performer, Adam Killian, witnesses his latest job, the seams begin to unravel, as the hit man becomes the mark. Power, aggression and lust erupt as the fuse is ignited and the suspense burns to an inevitable end. Watch as an all-star cast is caught in the crosshairs of a dangerous match of deception, murder and sex!
Description / Review:

Michael Lucas sits stoically on his bedside; he checks his gun and throws a bloody card into a drawer filled with others. After a brief glimpse into the private world of the assassin, we are thrust onto a New York City rooftop, which quickly becomes the scene of a crime. From there, we enter an upscale gentleman's club where dancer Adam Killian performs incredibly hot choreography to accompany the club's jazz singer, Ari Gold.
When the club's powerful owner Junior Stellano makes his way back to his office, he finds sexy boy toy Brad Star waiting to service him. Brad wastes no time getting onto his knees and getting Junior's thick cock wet. Junior wants a taste of Brad's massive member and greedily takes it into his mouth. Junior lies across his desk, letting Brad plunge his dick to the back of his throat while Brad reaches over to choke Junior's down to the base.
Brad climbs onto the desk and spreads wide on all fours so Junior can get his tongue into his tight hole. Brad bends Junior over the desk and fucks him deep. Junior lies back onto the desk and has Brad climb on top to ride his rock hard pole. Brad busts his load onto Junior's furry chest before Junior drains his own cock of hot cum, which he gobbles down. Now that Junior has had his way with him, he dismisses Brad.
Sir Ari Gold is performing in the club as Lucas comes in and is focused on one concern: murder. But his hit draws the attention of muscle-stud performer Adam Killian, who follows after Lucas in hot pursuit, leading them both down the streets on New York and into a subway station where Lucas manages to hop on a train car and evade Killian.
Rafael Alencar and Braxton Bond are back at their lair sharing shots after Junior's hit. Their celebration turns steamy when Rafael pushes his face into Braxton's for deep tongue-kissing. The kissing heats up and Braxton falls to his knees and worships Rafael's stiff massive cock through his tight, white briefs. As Braxton worships Rafael's cock, Rafael orders Braxton to look at him while he slurps down every inch of his monster cock. The two return to kissing while Rafael peels off Braxton's pants and throws him over the pool table, rubbing his raging cock along Braxton's quivering ass. When he's finally ready, Rafael lubes up and plunges his cock so deep into Braxton that he stamps his feet.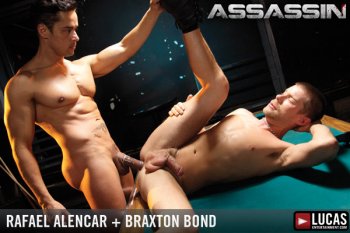 Rafael teases Braxton's ass by pulling his cock in and out, sending the bottom into squirms and anxious moans. But Rafael's dick alone isn't enough for the insatiable Braxton, so Rafael flips his bottom onto his back and takes out a big, black dildo to open up Braxton's hole even wider while blowing him at the same time. But why stop with one dildo? Rafael pulls out a red dildo as big as the black one and double-fucks Braxton without mercy! Rafael knows no limit when he sticks his own dick into Braxton's ass with the dildos, triple-fucking him, causing Braxton to moan and cry out. All of the excitement leads Rafael to an intense climax, where he shoots his hot thick load all over Braxton's legs and licks it up.
Rookie police detective Steven Daigle is casing the crime scene with boss Wilfried Knight. Steven is hot on the case of discovering who shot Junior Stellano but it's a tough job and he needs a cocktail to help take the edge off. Bartender Cliff Jensen is happy to oblige, but it's more than just a shot of liquor he winds up giving Steven.
With his fly already down, Cliff hops over the counter, pours a drink over his hard cock and tells Steven to take a stiff drink. Steven does so without hesitation and takes Cliff's smooth, cut cock all the way down his throat. While Steven gives him a wet blowjob, Cliff makes a grab for Steven's gun to compare which is bigger. Rest assured - it's Cliff's. Soon after, Steven gets serviced himself. He peels off his cop clothes and hops up onto the counter where he aggressively pumps his dick down Cliff's throat.
They role-reverse again and Cliff lays on the counter spread eagle so Steven can give him a deep, slurping rim job. It doesn't take either of them long to get ready for some fucking. Cliff turns Steven over on the counter, and starts pounding his smooth ass. Steven takes every inch of Cliff's cock, though he's groaning and grabbing the counter during every, last second of it! Steven proceeds to jump onto his back so Cliff can drill him balls-deep until neither one of them can stand it anymore. The cop blows his load on Cliff's leg and slurps up every last drop before falling to his knees and receiving Cliff's cum all over his face.
The puzzle pieces are beginning to fall into place as it's revealed who are the friends and foes of the assassin. He's marked for dead, and believing that the assassin is now a corpse, corrupt detective Wilfred Knight wastes no time visiting Drew Cutler's apartment for a hot and heavy celebration.
The minute Wilfred is in the door, the two conspirators make their way into the living room for some rough kissing, spitting, and grinding. They tear off each other's clothes, revealing Wilfred's hard, hairy chest and Drew's smooth muscled body. But rough foreplay isn't what the men are after: Wilfred peels off Drew's tight white briefs and takes his hard cock instantly into his mouth with slow, deep, and slobbering slurps.
As the scene heats up, Drew throws his legs up into the air so Wilfred can work his cock, asshole, and balls all at the same time. When it's Wilfred's turn for some steamy action, he face-fucks Drew's mouth, forcing him to take his meaty shaft all the way down to his pubes. As fucking grows imminent, Drew flips onto his back once again and is ready for Wilfred to pound the hell out of him. When Wilfred has his fill of Drew's meaty ass in this position, the bottom gets onto all fours so Wilfred can fuck him into total submission until they both spout loads of cum.
The finale has arrived as Michael Lucas' assassin meets with the sexy muscle-stud performer Adam Killian to learn everything he knows about who's trying to kill him. But it's not just information that the assassin is after - it's Adam himself.
Adam and Michael embrace in slow, soft kisses before he moves up and down Michael's sleek body and hard, massive cock. Michael can't keep his hands off of Adam, either - he runs his hands along his face and through his hair as Adam licks and sucks Michael's stiff shaft and works his balls with his hands. The scene turns even hotter when Michael slips off Adam's white briefs, flips his ass into the air, and deeply eats out his tight hole.
When Adam can't take it anymore, Michael slides his rock and ready dick deep into Adam's ass, slowly and deeply riding him, making intense eye contact the entire time. Eventually Adam rolls over onto his stomach and buries his face into a pillow with low moans as Michael continues to fuck him with unending momentum. As they climax nears, Adam once again moves onto his back as Michael drills them both toward a passionate cum shot. This is a romantic side of Michael and Adam never before seen. But the action doesn't stop here as the detective enters Adam's apartment and Michael races back to his place to cover his tracks. The fuse is ignited and the suspense burns to an inevitable end in the shocking finale of this edgy porno noir.
This older title only appears to be available for download or to stream online.