Summary:
It's one of the major gay porn events of the year when "Trenton Ducati Goes Bareback," and its Lucas Entertainment's privilege capturing it on camera! Trenton rips off the condom to fuck Blue Bailey, but better yet, he gets on his back to take bare cock in his own muscle ass! After Trenton and Blue are done blowing their cum, Erik Grant returns to the studio to dump a load in Blake Daniel's ass. Jed Athens and Hot Rod shoot their jizz after a rough and sweaty raw fuck. And Robin Sanchez begs for Issac Jones to fuck him bare. It's all in the title: 'Trenton Ducati Goes Bareback'!
Description / Review:

Scene 1 (Part A): Trenton Ducati Bottoms Bareback With Blue Bailey For The First Time On Film

We saw Trenton Ducati fuck Blue Bailey raw up his ass last week, but the awaited second part promises even more mind-blowing gay bareback sex! This week we see Trenton drop his pants, flash his huge muscular ass, and bend over for Blue Bailey's raw cock. Trenton is a truly versatile guy -- he's just as good at taking bare dick as he is at giving it, and he gives Lucas Entertainment a show the studio won't soon forget! The amount of sweat Trenton Ducati and Blue Bailey generate as they have bareback sex is incredible, but for all of the ass pumping they do, it's no surprise!
Scene 01 (Part B): Trenton Ducati Has Bareback Sex For The First Time On Camera With Blue Bailey
Trenton Ducati began filming with Lucas Entertainment in 2012 when he shot his first scene with Jonathan Agassi in "The Power of Love." Since that initial filming he's been a fan favorite on Lucas Entertainment: he's one of the strongest and most muscular men to appear on screen in awhile, and his fan base is well earned and deserved. Trenton, however, has been saving his raw load for a long time and it's with Lucas Entertainment he decided to make his gay bareback sex debut! Blue Bailey is a friend of Trenton and he is more than excited to bend over and take a load up the ass from the ripped top! Blue is a good bottom candidate for Trenton because he's capable of taking the powerful thrusts the top delivers!
Scene 02: Jed Athens Takes Hot Rod's Massive Cock Bareback
A subtitle for this scene should be the following: "white boy down." This is not only Jed Athens' first bareback scene for Lucas Entertainment, but also his first bareback scene all together! Who better to rip him apart than Hot Rod, one of the sexiest black men to film with the studio, and the massive black dick between his legs is meant to fuck raw. Jed is the total bottom in this scene, so it's his responsibility to give pleasure to his top. If there is one thing to pay attention to, it's Jed Athens' sounds and face. This very well might be his first time taking black dick, because a lot of the time he looks like he can barely take it!
Scene 03: Erik Grant Returns to L.E. and Barebacks Blake Daniel's Ass
Erik Grant was once one of Lucas Entertainment's hottest exclusive models -- handsome, masculine, fit, and sporting a beautiful cock. He hasn't filmed for the studio in quite a few years, but when he learned that Lucas Entertainment started producing gay bareback sex videos he couldn't resist making his return! Blake Daniels was hand selected to be guy whose raw hole is seeded by Blake. While Erik has been versatile in the past, he's all top in this scene, and it must feel good as he pounds Blake, because if there's one thing he has it's momentum!
Scene 04: Robin Sanchez Begs for Issac Jones' to Fuck Him Bareback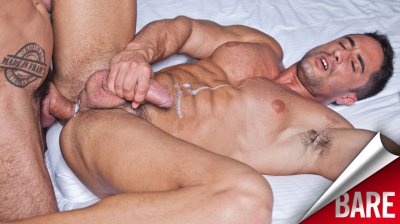 Robin Sanchez has had his eye on Issac Jones -- the gay porn star legend of Paris -- for some time. But when Rob has sex it has to be raw -- and for the first time in a Lucas Entertainment scene, Issac agrees. What's so hot about Robin is just how big he is: the guy is super jacked and ready to take cock! Issac shows Robin back to his hotel room where they strip off their clothes and show off their bodies. While Robin Sanchez is a major beefcake of a man, he's also a needy bottom. Oral sex is fun, but it's a dick up his ass he needs, and Issac provides it for him. Issac sits in a chair and Robin straddles him (the bottom's favorite position), and it's extra hot to see how Robin holds on by wrapping his arms around Issac's neck. Robin takes a bare dip into Issac's ass too, but this gay bareback sex romp is concluded the only way it truly should be: with Robin on his back blowing a load with Issac's raw cock in his muscle-butt!