Summary:
Join the Lucas Men as they compete for the honor of "Breeding Prince Charming", with Brian Bonds as the star of the show! A cast of hot and horny contestants starring Marq Daniels, Sergeant Miles, Rico Marlon, Damon Heart, Andrey Vic, and Adam Killian compete, plot, suck, rim, and fuck their way to the finish line. Who will beat out all the other guys and earn the grand prize of Brian Bonds for a night of "Breeding Prince Charming"?
Scene 01: Sean Xavier Fucks Brian Bonds with His Raw Black Cock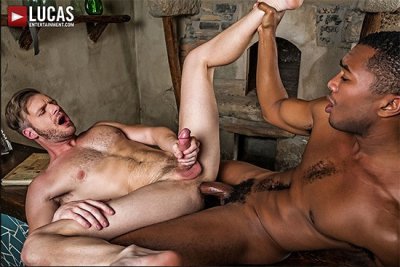 Brian Bonds stars in the spoof reality competition show "Breeding Prince Charming," and a cast of 11 Lucas Entertainment models are vying to win his attention. Damon Heart is the host of the show, and we're joined by Andrei Vic, Jon Bae, Sean Xavier, Ricky Verez, Ken Summers, Michael Roman, Dylan James, Kim Gromov, Rico Marlon, Marq Daniels, and Bogdan Gromov. Damon sets the guys loose to show off their goods to Brian, but it's Sean Xavier that catches his eye for the first "date." The two guys head over to the bar to get to know each other, but neither one of them keeps up the act for long. Brian Bonds quickly shows off his reason for starring in the show: he wants to be a sub bareback bitch for the hottest guys on the cast. And when Sean Xavier whips out his 10 inches of huge black cock, Brian begins his work to make sure all of Sean's needs are met. But after the raw sucking and fucking is over, was Sean's performance good enough to make the cut'
Scene 02: Rico Marlon and Sergeant Miles Double-Penetrate Ken Summers
Sergeant Miles doesn't know what's going on with his relationship (or lack thereof) with Brian Bonds, the star of "Breeding Prince Charming." He sees the other contestants around him getting a shot to raw-dog the slutty prince, but Sergeant is sitting on the sidelines and his balls are getting fuller and fuller with each passing day. At this point, he doesn't care if he gets any time with Brian or not -- he just wants to nut. He stops by the pool to let off some steam, and there he finds the Latino hunks Rico Marlon and Ken Summers.
This gives Sergeant Miles the perfect opportunity to whip out his dick and have some fun with two of his sexy-as-hell cast mates. Rico and Sergeant are both in the mood to fuck a guy in the ass, and Ken Summers is more than happy to take them both on at the same time. If you check out 15:00, you'll see Ken being split in two when Rico and Sergeant double-penetrate him… just listen to the moans!
Scene 03: Sergeant Miles and Damon Heart Flip-Fuck Raw
Damon Heart has had his eye on the contestant Sergeant Miles since "Breeding Prince Charming" began, despite it being improper for the host involving himself with the contestants. When Sergeant finds himself in an unfavorable situation, Damon cuts his job as host short and offers the muscular stud some support. And that supports turns into Sergeant brandishing his hard cock.
Yes, Sergeant is an awesome top and most guys beg for the chance to take it up the butt from him, but sometimes he wants his ass played with too. Damon gives Sergeant that needed attention at 09:10. They soon switch roles, where Sergeant shows off those bareback topping skills he's well known for at 14:05.
Scene 04: Brian Bonds' Bareback Gang Bang
The contestants of "Breeding Prince Charming" have been whittled down to Marq Daniels, Rico Marlon, Andrey Vic, and Adam Killian. And the only effective way to figure out who wins Brian's ultimate affection is to try everyone out at the same time. Brian Bonds offers his hole to the raw hard cocks of the four remaining contestants, and they all show off their full skills.
Brian takes a real hammering, especially at 9:15 when he is double-penetrated by Marq Daniels and Andrey Vic while sucking off Adam Killian and Rico Marlon. In the end, Damon asks Brian if he found what he was looking for… Did he'