Summary:
Executives are powerful men who know how to get what they want and the aggressive men-in-charge in Gentlemen 3: Executives know how to give orders and to dominate any situation.
Description / Review:

Scene 01: Avi Dar and Marc Dylan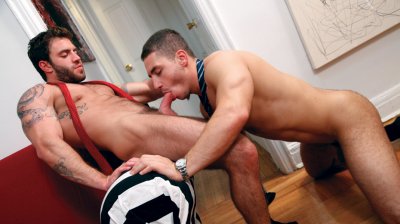 Young businessman Marc Dylan checks his mailbox when his high-class neighbor, Avi Dar, returns home from an exhausting and aggravating day at the office. The two eye each other up in the hallway and begin their walk up the stairwell. Keeping their public and professional lives separate from their hot, intense private lives, they stop each other on their walk up and begin kissing, hoping that no one will notice them. For security, they both take refuge in Avi's apartment: the Israeli executive slams Marc against the wall, undoes his pants, and slides his dick down his throat. Avi's pursed lips and bearded cheeks suck on Marc's hard cock eagerly, and Marc can't get enough of him; Avi even flips him around to lick the tight hole between Marc's hairy ass cheeks. The two spin around and Marc undoes Avi's suit trousers, revealing his thick, cut dick - Marc has to open his mouth and throat wide to accommodate its size. Marc is a powerful wunderkind in the office, but in his secret life, he gets off on submitting to other powerful men, and Avi uses it to his advantage. While still in the hallway, Avi undoes his suit, turns Marc around, and buries his dick deep inside. The pounding is hot and intense: Marc scrunches up his face as Avi penetrates the power-bottom's hole. They move over to the couch where Marc submits his ass high in the air for Avi to use him, riding the ass toward an intense climax.
Scene 02: Dirk Caber and Rafael Alencar
Dirk Caber is a powerful executive running his own business, but in his private life he's only happy if he's getting slapped around and fucked by someone more powerful than him. The answer to his needs is the suited hunk Rafael Alencar, who visits Dirk's office and smacks the bearded stud, showing him who the true boss is. Rafael treats the hot guy like a bitch before unzipping his pants and releasing his thick, uncut Latin dick; Dirk drops to his knees and slurps up the meat, making it wet as he swallows it. Rafael's cock was built for fucking, so he spins Dirk around and licks his ass before slipping on a condom and sliding his cock inside the bottom. Dirk is bent over his office sofa as Rafael slams him without mercy: there is nothing Dirk can do but hold his ass high up and take each thrust. The heavy fucking culminates in Rafael cumming in Dirk's begging mouth!
Scene 03: Logan Stevens and Robert Van Damme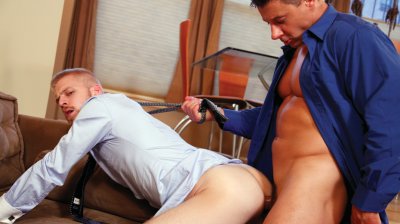 A toast to business partners: beefcake executive Robert Van Damme and slender, blond wunderkind Logan Stevens seal a business deal the only way two hot guys should: with hard, intense gay sex! There's some kissing, but it's mouth-to-cock contact these to hunks are truly after. It's Robert's turn first -- he pulls his pants down and reveals the thick, uncut cock hanging between his legs, which Logan gobbles right up. He swallows all of Robert's dick, going right down to his balls -- Robert even hold Logan's head to force his bottom's throat! The pair flips and Robert dives onto Logan's cock, which stands erect and tall. But it's not oral sex that's going to totally seal this deal: Robert is a power top, and he demands further payment from Logan. The blond cutie bends over and offers his hole to Robert, who doesn't hesitate in taking it. Logan is on his stomach, his knees, and his back as he submits to Robert's girth and gets fucked -- all he can do is take it, moaning and wincing with each thrust!
Scene 04: Aaron Blake and Valentin Petrov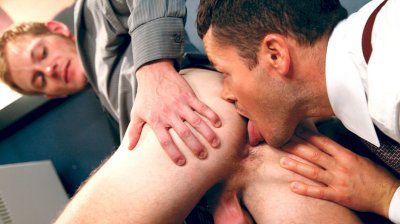 Youthful, fresh-faced executives Aaron Blake and Valentin Petrov sneak away from their offices and meet in a park. They act casual, but the suited pair is actually doing everything they can to hide how horny they are for each other. Valentin is visiting on business from overseas, and because he won't be in the United States for long, he and Aaron find a place to be together as quickly as possible. Hiding out in Aaron's apartment, they start with some heavy kissing, but Valentin grows bored and takes a seat in a small armchair. Feeling relaxed, he lets Aaron get to work on his package: he strokes Valentin's hard, uncut cock through his trousers before unzipping and pulling it out. Aaron sucks and swallows his visitor's cock; Valentin is sitting back like a king and loving every minute of Aaron's oral attention. Valentin has a fixation with asses, so he bends Aaron over and plays with the bottom's cheeks and hole before putting on a condom and sliding inside. Valentin has a lot of girth to his dick, and Aaron winces as Valentin enters him. He's easy at first, but once he's in, he starts pumping and thrusting -- Aaron just has to hold on and submit to his top's pleasure. These hot guys are so horny they don't even whip their suits off until towards the end of their secret fuck!
Scene 05: Kyle King and Mitch Branson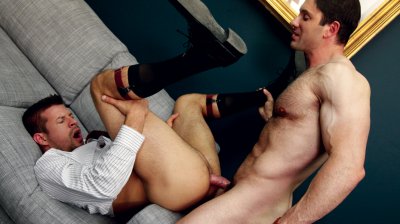 CEO Mitch Branson enjoys abusing his power, which he uses to great effect against business newcomer Kyle King. Calling Kyle into his office, Mitch talks business, but he's staring at Kyle's cock underneath his pants the entire time. Mitch seduces Kyle into bending over his desk, where he begins with a long and heavy session of ass worship. Mitch can't get enough of slapping the round cheeks of Kyle's amazing butt, nor can he stop from fingering his tight, innocent hole! Kyle is turned on by the power dynamic, so he doesn't stop Mitch from using his power to take control of his hot body. Mitch unzips his pants and lets his cock pop out -- Kyle understands the signal and swallows it up, starting with Mitch's mushroom head and working down the shaft. Kyle quickly turns right back around and bends over the desk; his ass his held high as Mitch lubes up and puts a condom on. Kyle moans and groans as Mitch rams him; as they're fucking, Mitch unbuttons his shirt and reveals his sculpted, ripped torso. He even has a perfect dusting of course, manly chest hair! But the pair reverses the power-play, and Kyle takes Mitch's ass for himself. Mitch hops on top of Kyle's cock and rides him, giving over some power until they both explode cum!
This title currently appears to be only available to download or stream online.

Additional Information
Categories: UK R18 / XXX Gay Adult
Running Time: 159 mins, Year: 2011
Price: Around £33*
Starring: Rafael Alencar, Avi Dar, Kyle King, Aaron Blake, Dirk Caber, Logan Stevens, Marc Dylan, Mitch Branson, Robert Van Damme, Valentin Petrov
Director: Michael Lucas
Studio: Lucas Entertainment
Buy DVDs Online at: Simply-Adult.com, Homoactive and Radvideo (USA)
Downloads and Video On Demand: Lucas Entertainment, See also: www.gayvod.co.uk
Official member sites: Lucas Entertainment.com and LucasRaunch.com
Country: USA, Language: English
Additional info: No Regional Coding