Summary:
The hot, hard, and horny guys of Ft Lauderdale expect the best Top Service the Sunshine State has to offer! There are plenty of pool boys, repairmen, and gardeners ready to work and sweat long and hard.
Description / Review:
Scene 01: Alexander Garrett and Sean Xavier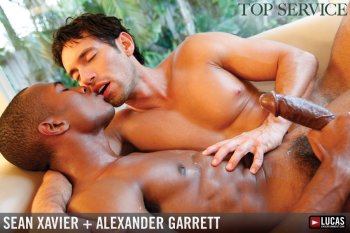 Sean Xavier is a tall, lean black stud with a problem: his damn television just won't work. While on the phone with a repairmen who gives him nothing but the runaround, hunky Latino stranger Alexander Garrett shows up at Sean's house and offers some help. Luckily, the only problem is the power cable: it's unplugged. Alexander inserts the cable into the wall socket, and when he looks back up Sean has his own power plug standing alert and ready for service. With a wide, gorgeous smile, Alexander pulls down Sean's shorts, and his thick, massive black cock bounces out. The piece of meat vanishes down Alexander's throat as he swallows and slurps on his reward for fixing Sean's TV. Alexander struggles to handle Sean's big, black cock down his throat, but it's a challenge he happily undertakes. Sean wants to see what Alexander has to offer, so they both strip down; Alexander has a gorgeous, muscular body with lightly tanned skin. Sean lays him down on the sofa, smothering the Latin hunk with passionate kisses while running his hands up and down his ripped body. Alexander's tight, smooth asshole is calling out for a tongue bath, and Sean obliges. When Alexander's tight, puckering hole is ready for dick, Sean rolls on a condom and slips his fat, hard piece into the Latino's rectum. It's difficult at first, but Alexander accommodates Sean's size. After flipping Alexander around in different positions, Sean sucks the Latino's fat, sexy dick, getting him hard before he fucks Sean's mocha hole. The gay sex of these two hot guys ends in an explosion of cum!
Scene 02: Matthew Rush and Michael Lucas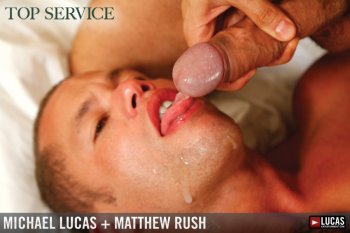 Popular gay pornstar Matthew Rush is vacationing in Florida, but his work ethic deserves applause. While relaxing, he's still earning some cash on the side by giving massages to a select clientele of men, but when he receives an anonymous request, he's curious to respond. He visits the address of his client, walks into the bedroom, and mounts the bed, only to discover another gay pornstar: Michael Lucas himself. The massage is forgotten as the two men deeply kiss and explore each others bodies with eager fingers and hands. Michael gets hard quick, and stands up on the bed, presenting his 10-inch cock for Matthew to suck, who quickly swallows the uncut piece of meat down his throat. Matthew's own thick cock deserves attention, so he and Michael 69; the two devour each other's dicks with lust. Afterwards, the two hunks swap rimjobs: Michael sits on Matthew's face, and then Matthew bends over so Michael can eat him out before slipping his huge dick inside of Matthew's ass. Michael shows no mercy to Matthew as he fucks him -- Matthew winces and grits his teeth, taking all of Michael inside of him as the pornstar pumps and rides his ass. Michael's deepest penetration occurs with Matthew on his back, bringing Michael to climax; he explodes all over Matthew's face with his cum!
Scene 03: Ridge Michaels and Valentin Petrov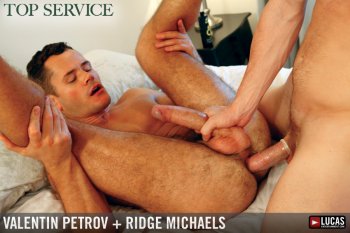 Pampered blond playboy Ridge Michaels loves nothing more than laying around in bed, having his every need taken care of -- including having his pool cared for at all hours of the day. Foreign pool boy Valentin Petrov is a working stiff with a hot body and sweet face -- Ridge doesn't hesitate rolling out of bed and strutting around on the deck watching his servant labor away. Enticed, Valentin follows Ridge back inside his bedroom where be drops to his knees and starts sucking on his beautiful, thick, fair-skinned cock. Valentin is hard himself at the thought of servicing his employer, so Ridge helps him out by sucking on his big uncut cock. Valentin needs to prove how hard a worker he is: Ridge's ass needs to get fucked deep and hard, and it's Valentin's new assignment to see that through to completion. First he wets down Ridge's hole with his hungry tongue and then sits down on the bed for Ridge to hop on. This hot, blond guy has a lean body that easily fits down onto Valentin's cock, and he rhythmically gyrates and maneuvers his body like a dancer as he accepts Valentin into his body. Valentin completes a job well done, as he and Ridge squirt loads of cum!
Scene 04: Al Carter and Derrick Vinyard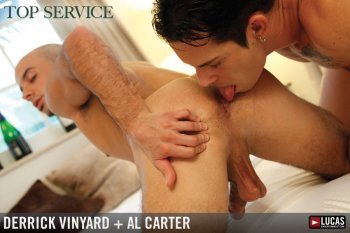 All Derrick Vinyard wants to do is have an easy phone conversation, but maintenance man Al Carter is making it impossible with his leaf blower. Derrick has no patience, and if Al needs to blow something, why doesn't he make himself useful and put his mouth on Derrick's cock and blow away! Derrick is intimidating, and Al isn't one to turn away. He pulls down Derrick's pants and boxers, and slowly inserts Derrick's dick into his mouth. Derrick knows how he likes to have his dick sucked, and he's verbal with Al as he works on him; Al certainly gives it his total effort, puckering his lips and opening up his throat. In order for Al to learn how to suck a cock, Derrick needs to show him personally, so Al stretched out on Derrick's bed and presents his erect cock. The muscled top situates himself between Al's legs and starts blowing his cock. The maintenance man rolls over so Derrick can lick his ass hole, preparing the tight opening for his cock. Al gets on his hands and knees and accepts Derrick inside of him. Derrick is aggressive, and he doesn't hesitate taking his pleasure from Al's hot hole, whether or not he can handle it. Al looses his load while Derrick is drilling the bottom on his back. Soon Derrick rolls over so he can jerk himself to completion, too!
Scene 05: Devin Adams and Diego Vena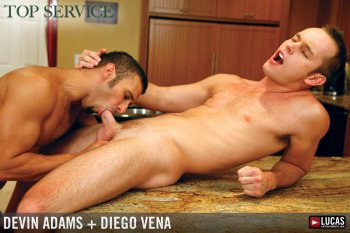 Devin Adams is caring for the property around his apartment, and Diego Vena knows it -- he's spying on the young hottie as he waters the shrubs, sneaks up on him, and gets sprayed with water. Devin feels guilt, so he and Diego retreat into his home to clean up. They both strip their wet clothes off in Diego's kitchen and start making out, and the two have never looked hotter. Diego gets down on his knees, yanks down Devin's tight blue sports briefs, and starts sucking on the cutie's hard cock. Devin has such a hot, frat-boy voice: listen to him as he says "yeah" over and over again as Diego works hard to please his fuck bud! They switch positions and with Diego leaning against the counter, Devin starts slurping and sucking on his dick. Devin is a horn-dog that loves to get his dick up a guy's ass, so he wets down Diego's backside with an eager tongue bath before throwing him over the counter and sliding his dick inside. With vigor, Devin fucks Diego hard, who despite loving getting fucked, he has to adjust to the thrusts Devin gives him. Devin enjoys feeling a dick in his ass, too, so Diego straddles him while standing on the counters and sticks his dick up Devin's ass in an impressive feat of sexy acrobatics. How else could a hot encounter like this happen without heavy loads of cum!
Additional Information
Categories: UK R18 / XXX Gay Adult
Running Time: 178 mins, Year: 2012
Price: Around £33*
Starring: Matthew Rush, Michael Lucas, Al Carter, Alexander Garrett, Derrick Vinyard, Devin Adams, Diego Vena, Ridge Michaels, Sean Xavier, Valentin Petrov
Director: Michael Lucas, Mr. Pam
Studio: Lucas Entertainment
Buy DVDs Online at: Simply-Adult.com, Homoactive and Radvideo (USA)
Downloads and Video On Demand: Lucas Entertainment, See also: www.gayvod.co.uk
Official member sites: Lucas Entertainment.com and LucasRaunch.com
Country: USA, Language: English
Additional info: No Regional Coding