Summary:
In the premiere of Lucas Entertainment's new series GENTLEMEN we explored the slick look, the polished feel, and the masculine smell and taste of an executive man dressed in a tailored suit.
Description / Review:
SCENE #1 ADAM KILLIAN & CAVIN KNIGHT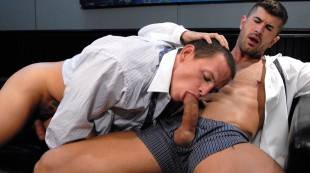 The premiere scene of MEN IN SUITS opens with the well-dressed Adam Killian and Cavin Knight getting into some lunch time heavy petting in New York's Bryant Park. The two move to a more secluded environment where they further explore each other's body of work. When stud Adam Killian beckons hottie Cavin to come closer, these animals engage in a deeply passionate make-out session before they take turns deep throating the other's massive cocks. After Adam has had his fill of Cavin's dick he bends him over and devours Cavin's smooth muscular ass. Even Cavin himself can't help but get involved as the guys work together to loosen up Cavin's hole. After the guys suck each other off in a hot 69 position they each take turns working over the other's tasty ass before they flip-flop, relentlessly fucking each other. The guys even get into some light foot play as Adam peels off Cavin's sheer socks and gives his dirty feet a good licking. Cavin then spews warm cum all over his own chest as Adam gives his hole the kind of pounding only Adam can give. Cavin's tight, warm hole becomes too much for even Adam to handle and Adam feeds his thick load straight in Cavin's open mouth.
SCENE #2 JEREMY BILDING & JOHN MAGNUM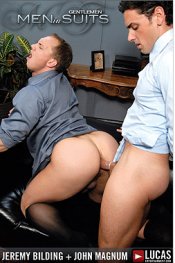 These two hard-nosed executives first catch eyes at New York City's bustling Port Authority Terminal and quickly move their rendezvous to an intimate executive office location. As John Magnum adjusts his tailored pinstripe suit, the incredibly sexy Jeremy Bilding appears behind him and the two begin kissing sensually. Before you know it, they slip their gorgeous cocks out of their well pressed dress pants and swallow every inch of each other's cut dicks. The power hungry Jeremy then bends John over the couch so he can eat from John's smooth, meaty ass. After John get's his fill of Jeremy's non-stop ass teasing, he orders Jeremy to fuck him and Jeremy happily submits to his demands. Jeremy proceeds to fuck the muscle bottom over and over again showing us who's truly in charge. Jeremy pounds the cum right out of John and follows it up by shooting his own load straight into John's wide-open mouth. Catch every second of this intensely hot scene as these boys show us how a proper business meeting is conducted.
SCENE #3 STEVEN DAIGLE & ARPAD MIKLOS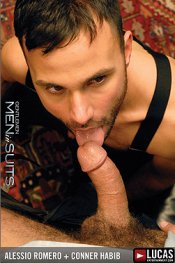 Our two distinguished executives first share passing glances on the street outside and immediately recognize a shared sexual chemistry. It doesn't take long for them to move their engagement to a more intimate location. Steven Daigle soon has Arpad Miklo's uncut cock jammed down his experienced throat and Arpad doesn't hesitate to return the favor. As the guys proceed to aggressively work over each other's bodies, the clothes slowly come off. As the passion intensifies, Steven finds himself bent over presenting his sweet hole as Arpad ferociously devours it. Once Steven has been primed and loosened, Arpad shoves his huge, meaty cock inside Steven's tight hole while Steven shouts and moans with absolute delight at every thrust. After receiving sound jack-hammering, Steven spews his hot seed all over his own chest and can't help but steal a taste. When Arpad has had his fill of Steven's hole, he jerks his meat and busts all over Steven and the two finish off with a kiss. Don't miss a second of these guys as they show us how a true distinguished gentleman operates.
SCENE #4 RYAN PATRICK & RJ ALEXANDER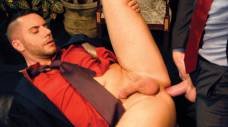 The scene opens with cocky ginger exec Ryan Patrick looking in the mirror and unable to stop checking out how hot he is in his new suit. Before long, he frees his thick, uncut dick from the fly of his slacks. This brings dark-suited hottie RJ Alexander into the picture and onto his knees to get Ryan's cock wet. After some serious face-fucking and foreskin-sucking, Ryan bends RJ over the couch and forces his tongue into RJ's hot, smooth ass. Then RJ greedily opens his hole up for every inch of Ryan's meaty dick, moaning and begging for more. Ryan then sits down and has RJ spread his sheer-socked legs wide so that he can bounce up and down on his massive shaft. After their suits are drenched in sweat and RJ's hole is loosened up, Ryan flips him onto his back and fucks the cum right out of him and onto his chest. Then Ryan pulls out his cock and shoots his own load onto eager RJ. The cum stains on these suits will definitely be worth the cleaning bill.
SCENE #5 CONNER HABIB & ALESSIO ROMERO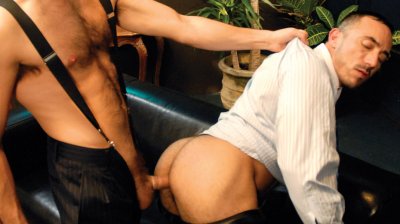 After meeting on a Manhattan sidewalk and admiring each other's sharp suits, Alessio Romero and Conner Habib share a few short kisses in public before taking it inside, overcome with desire. It progresses quickly from kissing to Alessio pulling out his weighty cock so that Conner can wet it, stroke it and take all of it into his mouth. After some hot spitting and ball action, the jackets come off and it's time for Conner to free his thick cock and shove it deep down Alessio's throat. Alessio slides his trousers to his knees and offers his hairy ass up for Conner to devour, finger, and, after stripping down to just his suspenders and slacks, fuck ferociously. Then it's Alessio's turn to make Conner groan, so after intense pit-licking and cock-sucking, Conner sits on Alessio's cut dick while wearing nothing but his socks and sock garters. Alessio pounds away persistently at Conner's sweet hole and Conner returns the favor as they flip-fuck on the black leather couch. Alessio shoots hot streams of cum across his tattooed, hairy stomach and chest and is fed a taste by Conner, who blows his own wad and licks Alessio clean. As they kiss, swapping spit and cum, they will leave you wishing that every business meeting could be this productive.
BONUS SCENE: JONATHAN AGASSI & SCOTT CARTER
In this bonus scene from AFTER HOURS we are offered some amazing shots of South Berlin where we find Jay Roberts and Scott Carter discussing some important business. Soon, the gorgeous and sexy Jonathan Agassi joins them. After Jay leaves, Jonathan and Scott escape to some inconspicuous park bench for some lunchtime heavy petting. When these two execs get overheated, they retreat to an obscure flat where they continue their make out session and Scott devours Jonathan's beautiful cock. Before they can even get out of their suits, Jonathan has Scott on his back, his skilled tongue and fingers firmly lodged in Scott's furry manhole. It seems like Jonathan's craving for Scott's tight asshole is insatiable, and that piggy bottom loves getting abused and misused by the fiercely aggressive Agassi. When these two pigs get around to fucking, Jonathan jackhammers Scott's hole until the cum oozes out of Scott's dick. Jonathan gets a good taste of Scott's jizz before shooting all over Carter's face and mouth. Jonathan spits all of it down Carter's hungry throat and the boys kiss. These workhorses know that all the real work gets done after hours.