Summary:
Vito Gallo is a street-smart writer in hot pursuit of the suave and sexy businessman Christopher Daniels in the superb Gentlemen 4: In Hot Pursuit.
Description / Review:
Scene 01: Jessie Colter and Trey Daniels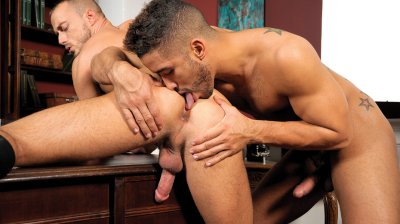 Lucas Entertainment exclusive Vito Gallo debuts in the fourth installment of the Gentlemen line as a street-smart writer who can't keep his eyes off hot blond businessman Chris Daniels. Vito himself is a diamond in the rough: sure he's hot, but while he lingers at the counter of his favorite bar and admires the executive patrons from afar, he can't help but feel jealousy. After he misses a chance to say hello to Chris, he focuses on the young hotshots Jessie Colter and Trey Turner. Vito reads their lips: "I want you to fuck me," Jessie whispers in Trey's ear. That's exactly what they do in Jessie's executive suite when the rest of the office has gone home. They kiss passionately while groping and grinding, removing each piece of their suits slowly. Jessie clears off his desk and hops on top as they kiss, but Trey is more interested in undoing his pants and taking out his hard cock. Trey Turner yanks down Jessie Colter's underwear and starts swallowing and deep-throating his dick; Jessie moans and grunts with each slurp. Jessie's lean torso flexes, accented by the light down of fuzz on his chest and stomach. The hot guys reverse and Jessie falls to his knees, taking Trey into his mouth. He stares up at his business partner with needy eyes as he sucks and slurps to please Trey. Both Jessie and Trey lust for each other, and it's never been so clear as when they exchange rimjobs, which couldn't be deeper or wetter. It's a precursor to some hot fucking, and the guys reveal themselves to be the gay pornstars they truly are. Trey bends Jessie over the desk first and fucks him, but Jessie strips off his suit, lays down on the desk, and with his cock hard and tall, invites Trey to sit down on it and take a ride. Jessie's never been deeper in Trey as he fucks him with loud moans leading up to an intense and explosive gay cum shot!
Scene 02: Cameron Marshall and Parker London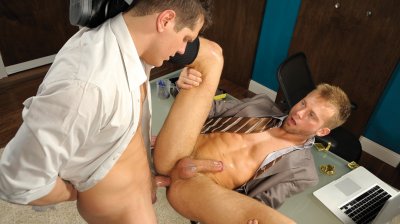 Vito needs to learn as much as he can about Chris, and he hopes Cameron Marshall will shed some light. When Cameron leaves the bar to put in some overtime at the office, Vito follows him but is locked out. Up in the office, Cameron's boss, Parker London, takes advantage of his subordinate's private life by reading aloud his profile from a cruising app. Cameron is speechless, but Parker isn't interested in talking business: he stands up and plants a kiss on Cameron's lips. The suited hunks jump into a hot make-out session before Parker sinks to his knees, and to Cameron's astonishment, starts getting his cock sucked by his boss! Parker loosens up his throat as he swallows and gags on Cameron, who pulls up his shirt so his submissive boss as full access. But it's not all about Cameron, and if he expects to keep his job he's got to show Parker the proper attention: this equals an awesome blowjob, and that's exactly what Cameron provides. Parker isn't shy about slamming his cock down Cameron's throat and smacking his handsome face with his erection. Parker then bends Cameron over the desk and uses his tongue and finger to play with his hole. Parker makes Cameron beg for his cock, which he happily sticks up his ass and starts fucking like a gay pornstar! Parker loves talking dirty to Cameron while he spreads out defenseless on the boss' desk. The hot guys in suits flip around and Cameron shoves his dick deep inside Parker, who is spread eagle on the desk! The holiday bonus comes early when they blow their loads of cum!
Scene 03: Franco Ferarri and Topher DiMaggio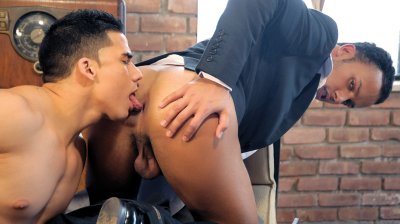 Vito is writing away about Christopher on his laptop when his roommate starts giving him a hard time. As far as Topher DiMaggio is concerned, Vito sits around the apartment all day, and as far as Vito is concerned, Topher is a prick in a suit who needs an attitude adjustment. But Topher's fuck buddy, Lucas Entertainment exclusive Franco Ferarri, thinks the suit is hot and after Vito exits the living room, the boys start kissing before Franco pulls down Topher's pants and wraps his lips around his cock. Topher is eating up all of the attention, and why shouldn't he: Topher is hot as hell, and Franco knows it. He worships Topher's big dick, looking up at him for approval. Each and every one of Topher DiMaggio's moans is all the confirmation Franco needs! As a power professional by day, Topher is all about having his needs met, and when having sex all he cares about is getting serviced. He switches around from having Franco suck his dick to eating out Franco's ass, but it's all in preparation of an ass fucking, and Franco is on the receiving end! Franco first bends over a chair so Topher can rail him, but when they move over to the sofa, he grabs the Brazilian bottom's ankles and plunges deep into his ass. Franco reaches orgasm while riding on Topher's cock, and Topher blows his load all over Franco for a job well done!
Scene 04: Dylan Roberts and Shay Michaels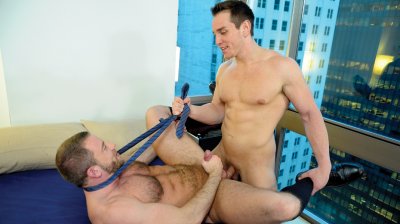 The more Vito falls for Chris, the more he obsesses over what he doesn't have: power, wealth, and a suit to flaunt it all. He sees Wall Street power-player Dylan Roberts down on Gold Street and wonders what his story is. Dylan works the numbers of his bank day in and out, but he needs a break and sneaks away on his lunch to meet his friend with benefits, beefy hedge fund manager Shay Michaels. Up in Shay's luxurious apartment, he starts sucking on Dylan as he undoes his pants to let his erection out to play. Dylan has a smooth, tight hole, and it calls out to have Shay eat out with his aggressive tongue. Dylan loves it, moaning and craning his head back to see Shay working on him. While Shay is blowing and licking Dylan, he gets hard himself and the two hot guys in suits switch positions and Dylan swallows up Shay's curved cock. Eventually Dylan hops onto Shay's bed on all fours, and his asshole is perfect for a fucking. His dress shoes and socks are still on, not to mention his shirt and blazer, and he's tangled and trapped in clothes as Shay fucks him doggy and on his back -- there's no escape in Shay's high-powered circle of sex. The guys switch positions and Shay sits right down on Dylan's hard cock! They get so hot and heavy they strip their suits off, but there's not enough time to take their socks off. Their sexy escape leads to two explosive cumshots!
Scene 05: Christopher Daniels and Vito Gallo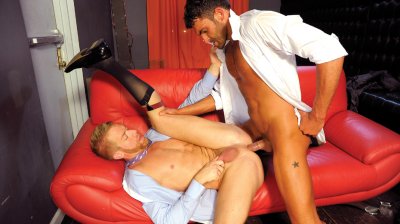 If Vito is going to earn his prize, then he needs to play by Chris' game. Filled with both resentment and envy, he takes bartender Adam Killian's advice and raises money any way possible -- even begging -- to get himself a suit. It's a transformation: Vito is decked to the nines and ready to impress Chris, who might be a powerful businessman in the world of gentlemen, but behind closed doors he's a submissive bottom ready to take Vito's cock, which is substantial in size. Chris first challenges himself to swallow it, opening his throat wide enough to let Vito go balls deep in his mouth. Chris and Vito have strong chemistry as their suits loosen up, and Vito can't help but lap up Chris' cock. Along with Chris' amazing cock is his supple ass, and Vito doesn't hesitate from taking a taste, and that one lick turns into a full-blown rimjob! The boys get plenty hard with lots of mutual dick sucking before Chris proves just how deep he can handle it. Bending over and exposing his ass completely to Vito, the new boss top enters into the blond bottom balls deep, showing no hesitation and fucking his prize and with fervor! Chris proves his skills as a bottom when he straddles and sits right down on Vito's cock, riding him until he busts his nut! It's too much for Vito to take, seeing the man of his dreams cum hard from his fucking, and he too shoots his load on Chris!
Additional Information
Categories: UK R18 / XXX Gay Adult
Running Time: 163 mins, Year: 2012
Price: Around £33*
Starring: Vito Gallo, Cameron Marshall, Christopher Daniels, Dylan Roberts, Franco Ferarri, Jessie Colter, Parker London, Shay Michaels, Topher Dimaggio, Trey Turner
Director: Michael Lucas
Studio: Lucas Entertainment
Buy DVDs Online at: Simply-Adult.com, Homoactive and Radvideo (USA)
Downloads and Video On Demand: Lucas Entertainment, See also: www.gayvod.co.uk
Official member sites: Lucas Entertainment.com and LucasRaunch.com
Country: USA, Language: English
Additional info: No Regional Coding