Summary:
Nine of Lucas Entertainment's hottest porn-star hunks take a break from their hectic everyday lives for a Cabin Retreat. There they relax the only way they know how: by sucking dick and fucking ass with their huge, hard cocks. Vito Gallo and Tate Ryder are the first to arrive, and they waste no time working their cocks until they blast loads of hot cum. For the first time on camera, Brandon Jones slams Jordano Santoro's ass before bending over and getting fucked himself. Sam Steel services Adrian Long's uncut meat by the fire. Ben Driver shoots his cum all over Johnny Venture's face and mouth with his nine-inch uncut cock. And Jordano Santoro returns to flip-fuck with Hayden Colby in the hot tub. After this Cabin Retreat, there's no going back to everyday life.
Description / Review:

Scene 1: Tate Ryder, Vito Gallo
It's going to be a great weekend getaway: that's a fact as far as young, smooth hotshot Tate Ryder is concerned. When he and his hunky pal Vito Gallo arrive, they take their bags upstairs to their room before meeting up with their other friends. While on the stairs, Vito gets a different idea and grabs hold of Tate's arm. Why rush? This is their weekend to relax and have fun. While on the stairs they begin making out and pulling off their clothes; Tate's shirt is the first to come off, and he's quick to pull up Vito's and tease his nipples with his lips and tongue. Tate takes down Vito's pants, and no sooner are they past his waste that his massive cock is poking out. The monster dick is a challenge Tate is more than excited to take on: he opens wide, loosens his throat, and wraps his lips around Vito's head and shaft as he settles in to give the sexy power-top a tonsil-tickling blowjob.
Tate loosens his pants up to let his own hard cock have some air, but Vito wastes no time dropping to his knees and eating up the bottom's smooth, cut dick while admiring its shape and size. Tate turns around, bends over, and presents his puckering hole to Vito, who points his tongue out and lathers the sphincter with saliva. With Tate teased and exited, Vito treats him like the needy bottom he is and bends him over the railing: if he knows what's good for him, he best be prepared to handle what Vito has to offer. It's difficult at first - Vito's size and girth is considerable, and Tate winces and grits his teeth as his hands wrap around the railing. But he loosens up and allows Vito to fuck him all the way up his ass. Vito sits down on the steps and Tate sits down on him. The pair move to the living room where Tate gets fucked on his back until they both blow their cum.
Scene 2: Brandon Jones, Jordano Santoro
While the rest of the guys staying at the cabin go out exploring the chilly Canadian wilderness, Brandon Jones and Jordano Santoro decide to stay behind and play pool in the cabin. After Jordano and Brandon realize that they have the entire place to themselves, they put down the pool cues and begin exploring each other's bodies while locking lips and throating their tongues. Brandon's body is killer and he loves showing it off when beefcake Jordano and he peel their garments off. Kneeling before Jordano's muscular body, Brandon opens wide to enthusiastically suck his cock. Brandon leans back and flexes his body and thick uncut cock, inviting Jordano to see what he can do with it.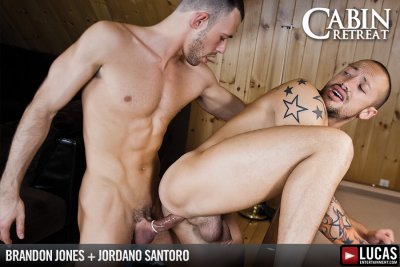 Jordano sucks on Brandon and plays with his foreskin before pushing him onto the couch and eating out his ass. Brandon and Jordano move back over to the pool table and Brandon lets his tongue loose on Jordano's own hole before he bends the muscle man over completely and starts fucking him up his ass; it's the first time Brandon has ever topped on film. Brandon is aggressive with Jordano completely at his mercy: he thrusts and pounds while the bottom takes deep breathes and accepts Brandon's girth into his ass! The hot guys switch positions and Jordano takes control of Brandon; it's well known that Brandon can take a dick like a true pro, and when Jordano pins him on his back and grabs hold of his thighs, he pounds the bottom until they both cum.

Scene 3: Adrian Long, Sam Steel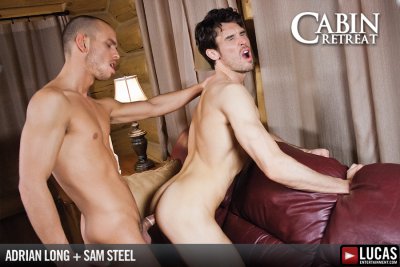 Boys will be boys: the sun has set over the cabin and Adrian Long decides to relax in front of the television with Sam Steel with some friendly video-game competition. They make a bet: whoever looses the final round has to suck the winner's dick. It's a tough match, but Sam comes out of it victorious, and Adrian knows what he has to do. Sam settles back in his chair and spreads his legs for Adrian. Working the shaft with his hand while bobbing up and down with his head, Adrian gives Sam a blowjob fit for a king; Sam smirks and smiles while closing his eyes. Adrian's jaw doesn't get tired at all, but Sam isn't selfish and wants to see what his hot gay guy pal is packing.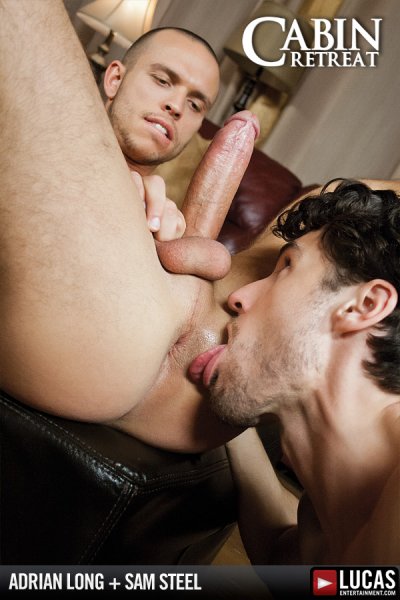 Adrian works on Sam's long hard cock and massages his foreskin a bit more before they both stand up and take off the rest of their already revealing clothes. Sam drops to his knees and while kneeling before Adrian's awesome physique returns the favor of a hard-sucking blowjob, working his head, shaft, and balls with anxious lips and an aggressive tongue. Adrian decides to bend over the couch so Sam can explore his hole with his tongue, prepping him for another reward. Sam slips on a condom and slowly slides into Adrian's ass, but he can't take it for long and has to pull out. But someone has to get fucked, and Adrian finishes first when he gets Sam on his back and licks his ass while Sam performs auto-fellatio on himself. When Sam is on his back, Adrian slips in his hole and fucks him; it's tough at first, but Sam grunts through it until they blow their cum.
Scene 4: Ben Driver, Johnny Venture
Johnny Venture is a showoff that deserves admiration: while vacationing at the log cabin in the woods with the rest of his hot guy pals, he's showering with the stall partially open. On display are his rugged good looks, six-pack stomach, and fat cock (which is so thick it looks like a beer can). It's routine that during his early morning showers Johnny jerks off so he can make it out the door with a clear mind, but his session is interrupted this morning when Ben Driver sneaks into the bathroom to take a piss. Johnny is happy to see Ben, a guy he always thought was cute, and with his big floppy dick hanging out of his pants over the toilet bowl, Johnny can't take his eyes off of it.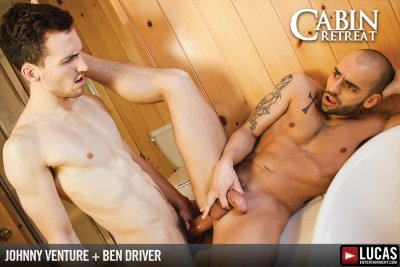 If Johnny wants it, he's not going to say no, so Johnny drops to his knees and opens wide to show what he's capable of. Ben is nearly ten inches and thick, so Johnny has no choice but to prove his mettle as he works on the shaft and head with his hands and mouth, delicately taking care of Ben's foreskin during the process. The guys are really hot for each other and start making out.
Johnny gives Ben a taste of his own dick as they kiss - until Ben falls to his knees and opens up his mouth to suck on Johnny's thick, fat cock. Johnny bends over the tub and puckers his asshole for Ben to eat out, giving him a small sampling of what he's capable of. Leaning over the tub and clenching his teeth, Ben finally gives the showering stud what he was after all along - a deep ass fucking. Ben promised to go gentle, but he and Johnny have different definitions of the word. Ben's body is toned and lean, and he knows how to thrust his massive cock as Johnny takes it, loving every second. Johnny even takes control of the scenario: with Ben on his back, he hops on and takes control of the monster cock, pumping his hole up and down on it until they're both ready to blast their cum.

Scene 5: Hayden Colby, Jordano Santoro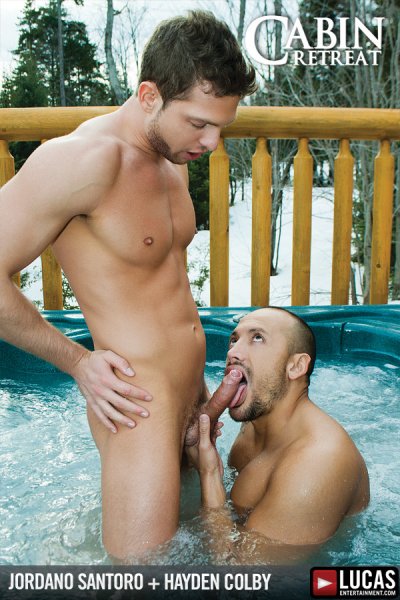 Jordano decides to admire the Canadian wilderness from the balcony on his final morning at the cabin. It's a sight he takes in with quiet admiration, something that Hayden Colby has been doing to Jordano the entire time they were vacationing together. But on their last morning Hayden works up the courage to finally approach the Latin hunk; Jordano is in no position to say no. Hayden is both cute and hot, with a great face and smooth body, and as they take their clothes off on the balcony they lean in close to warm one another. Hayden can't keep his hands off of Jordano's hard cock - he takes great pleasure from jerking and playing with it. Hayden warms the stiff meat with his wet, slippery mouth and tongue; Jordano leans back and lets his erection be savored by the hot cutie on his knees. Jordano turns around and bends over, signaling Hayden to take down his own tight underwear. Out pops his dick, which is alert and uncut.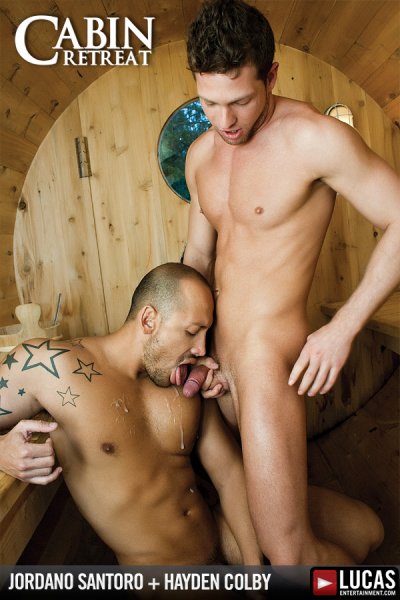 Hayden eats out Jordano's hole, who moans and squirms in pleasure. The hot guys move over to the hot tub where Jordano gets worked up and starts worshipping Hayden's body. Jordano spins around and presents his ass in an act of submission, and Hayden moves in to take what he's been craving. He slides into Jordano's ass and starts to fuck him with the hot water splashing and simmering around them. They hop out of the tub into the cabin's exterior steam room, where Hayden bends over and opens his ass up for Jordan. Grabbing the bench, he plunges into the hot bottom until they both blow their loads.